Welcome at our website
NAPKO, spol. s r.o. - company with many experiences in post-tension system, suspended and stayed cables bridge in Europe.
Company profile:
The company NAPKO, spol. s r.o. was founded in 1992 and is holder of Certificate ISO 9001:2008, 14001:1999 and 18001:2007. Company supply and install all components of post – tension anchorage system OVM.M15A in Europe include cables for stayed cables bridges and suspended bridge. Designed for anchoring of prestressing cables compound of 1 to 47 seven-wire pc strands with the rated diameter of 15.24 mm (0.6") to 15.7 mm (0.62") and the tensile strength up to 1860 MPa at the strength limit.
The particular parts of the anchorage system have certification for:
- anchorage strand strength 208 kN (223,2 kN)
- breaking strength of strand 260 kN (279 kN)
Certification process consists of the following parts:
- prestressing rules
- rules for cable channel construction
- grouting rules
- technology conditions of OVM.M15A anchorage system production
- tests and reports of particular parts
The anchor wedges used for the pc strands anchorage fully serve for the pc strand dimensions from 15.24 to 15.7 mm - anchorage strand strength 208 kN (223,2 kN), breaking strength of strand 260 kN (279 kN). Because the anchor grips are designed in this sense according to the EU standard they also serve for pc strands with smaller rated diameters of 12.5 mm (0.5") and 9.3 mm (3/8").
Particular anchor wedges and all accessories are produced in accordance with specified technology, which is a part of the product certification. Jigs serve for the concrete tensile strength of 35 MPa in the first prestressing and introduction of full planned prestressing.
OVM.M15A anchors can be, according to project or consumer requirements, completed with securing jaw plates, eventually with an armature casing and other accessories. The producer recommends using the casing every time for cable channels cement grouting with a subsequent casing removal and a possibility of a further use.
The elements of OVM.M15A anchorage system are designed for prestressing of bridge structures. Anchorage with a smaller number of pc strands is also often used for construction maintenance and static protection of building constructions and factory and water buildings. NAPKO® ,spol. s r.o. uses its own know-how (utility design) for static protection of panel buildings.
The anchorage system involves, in addition to the anchors, also cable couplers from 1 up to 27 strands. The couplers consist of either one-strand joints or a compact body of multistrand couplers and they are in an assembly for 2 up to 27 strands. The anchorage system is also invested with accoutrements mentioned in the catalogue.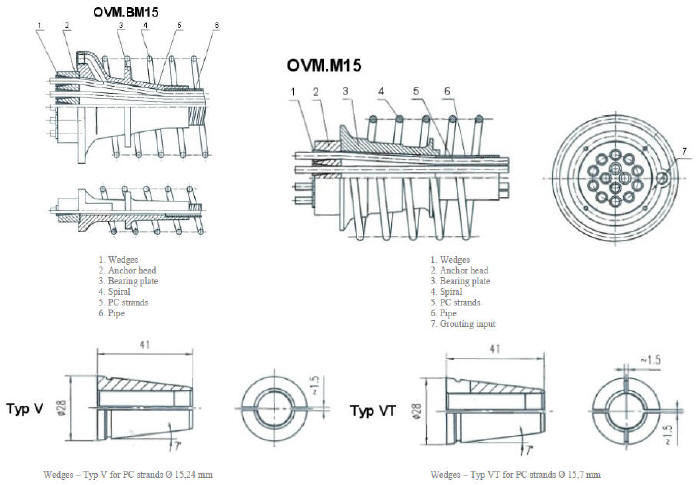 Necessary solution of OVM.M15A anchorage system is an anchorage solution for using the MONOSTRAND pc strands of 9.3 mm, 12.5 mm, 15.3 mm, 15.5 mm and 15.7 mm diameters.
Company NAPKO, spol. s r.o. supply stay cables for bridges from PC strands or wires, which could be epoxy-coated or galvanized.
Common Structure of Stay Cable
Classified by material:
- Main Tensioned Material——strand (normally Ф15,24 or 15,7mm 1860MPa epoxy-coated strand or galvanized strand)
- Anchorage——stressing end & dead end anchorage
- Assistant Devices——damper & PE retractor device
- Protective Material——HDPE sheath, waterproof
encapsulation material, anti-corrosion grease or epoxy mortar etc.